A flush bottom tank valve is designed to ensure that the fluid is flushed out smoothly, and the valve is closed without dead space.
There are two types of flush bottom tank valves. A rising disc type, which opens when the disc goes up and a lowering disc type, which opens when the disc goes down.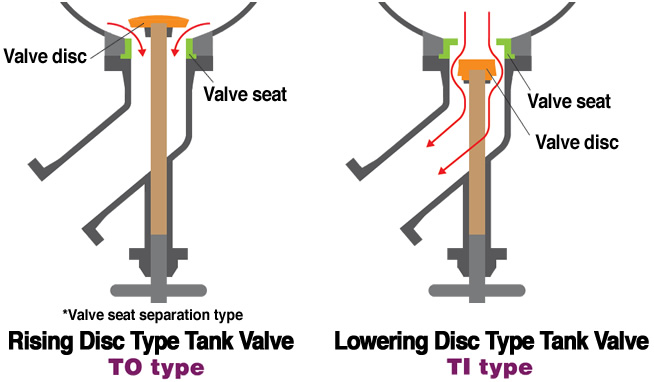 These valves can be manufactured to suit the shape of the vessel nozzle and pad flange.
It is easy to replace existing valves with these valves.
With the lowering disc type, the curvature of the valve seat and disc surface can be shaped to align completely with the walls of the vessel.
There is no need to worry about interfering with the agitator blades.
With the rising disc type, the top of the disc is tapered so that when it lifts, any solid particles or residues at the bottom of the vessel are broken up.
The temperature in the vessel can be measured by incorporating a thermometer (resistance thermometer sensor or thermocouple).
For the drive system, select either manual or automatic (air cylinder, air motor, or electric motor).
We can manufacture jacketed valves as well as lined and coated valves.