The main applications of these valves are gear pump switching, polymer filter switching, and other line switching. They are also used in a variety of plant piping.
Aska diverter valves incorporate a stem with a special tip shape (patented), ensuring smooth flow.
As the stem is moved between closed and open positions, it rotates so the tip is properly aligned with the flow channel.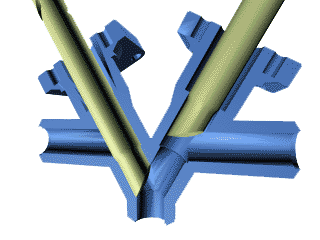 This design ensures no dead space in the flow channel.
3-way, 4-way, 5-way, 6-way, and 7-way valves are available.
The valves can accommodate a range from full vacuum (F. V.)
to high pressure (35 MPa).
Butt welded ends (BW), flange connections,
or Grayloc® connections are available.
For the drive system, select either manual or automatic
(air cylinder, air motor, or electric motor).
The disc and stem type can also be selected
for low-pressure conditions.
Jacketed valves are also available.