Maintenance Related Inquiries
Please contact us about anything related to valve maintenance.
Our dedicated staff is experienced with all types of valves and will respond quickly.
---
Maintenance Group
Aska Corporation
458-1 Minosho-cho, Yamatokoriyama-shi, Nara 639-1103, Japan
Parts and accessories can be ordered by telephone or email.
Valve Maintenance, Inspections, Overhauls, and Remodeling
Periodic maintenance and replacement of consumables ensure our valves can be used safely.
• It is recommended that the valves are returned for
maintenance every three years after purchase.
• Kindly replace the valve 20 years after purchase.
• For safety reasons, be sure to remove all fluid from
inside the valve before returning it.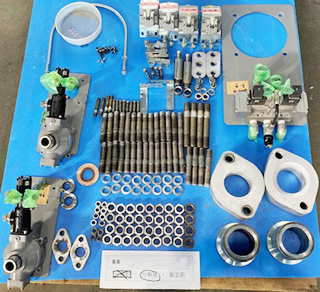 Maintenance Procedures

Supply of Consumable Parts for Valves
Contact us for gland packing, gaskets, and other consumables.
To ensure a smooth response, kindly contact us with technical drawings and part numbers.
> Click here for instructions regarding technical drawings and part numbers.

Technical Support for Aska Valves
Feel free to contact us with any questions about our products or installation procedures.
We can help by holding web conferences or dispatching engineers (paid service).
Technical Drawing Numbers
- The Aska drawing number (DWG No.) is located at the bottom right of a drawing (red frame).
"K - Model Number - Pressure Category - ID Number"
- The manufacturing number is the 8 digit number written in the yellow area below the drawing number.
"Year of Manufacture + 0 + Serial Number"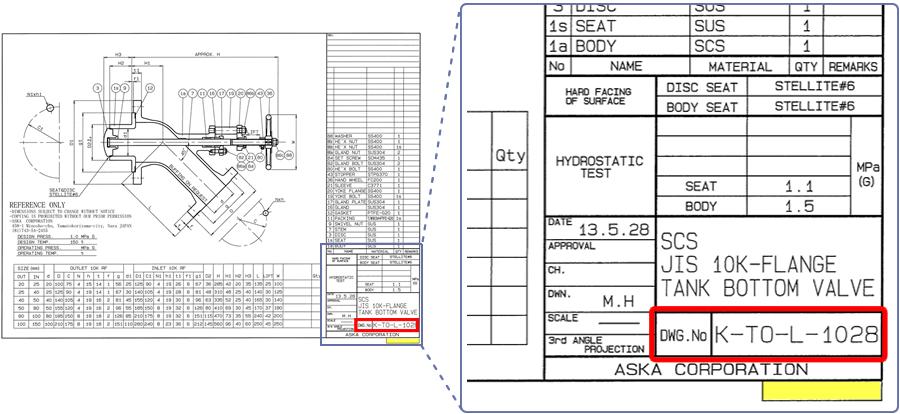 If the drawings are not available, please let us know the manufacturing number, which is inscribed on the valve's outlet flange.

Part Numbers
The part numbers are noted to the right of the drawings.
If you do not know the part number, you can still order it using the part name.
If you have any request for a consumable part or recommended replacement part, we will be pleased to respond.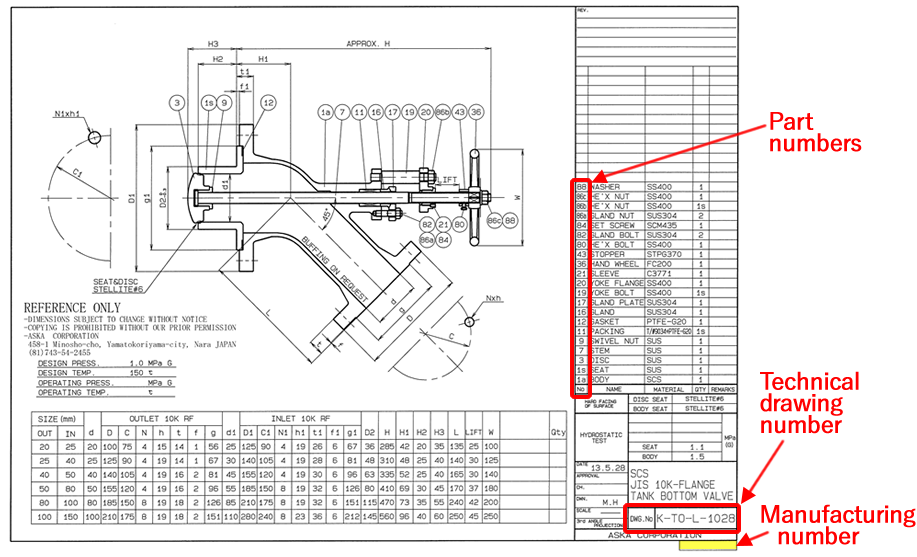 How to Identify an Aska Product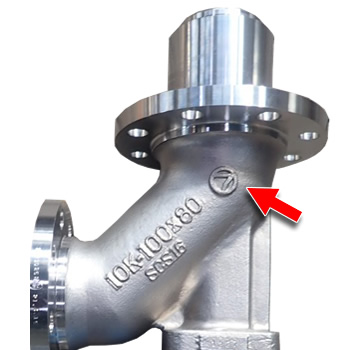 The casting of an Aska valve is inscribed with the Japanese letter

.
*Without Jaceket valves.