Case 1:
Electronic Materials Manufacturer
Valve that Breaks up Fluid Adhesions
and Cleans the Interior
Needs
There is a need to break up the fluid adhering to the bottom of the tank.
In addition, fluid adheres to the inside of the valve and needs to be cleaned out, but removing the valve each time is a lot of work.
Solutions
Aska's tapered valve disc breaks up material adhering to the bottom of the tank.
The inside of the valve was fitted with nozzles to enable places inside the valve where materials adhere to be cleaned without removing it.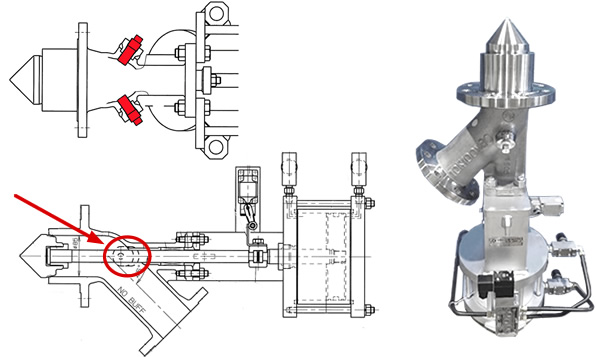 Customer Feedback
We previously broke up the adhesions by punching them with the rod from the top of the tank. However, these materials are now removed automatically when opening and closing the valve, ensuring that the fluid discharges smoothly.
There is no need to remove the valve after each batch.