Main customers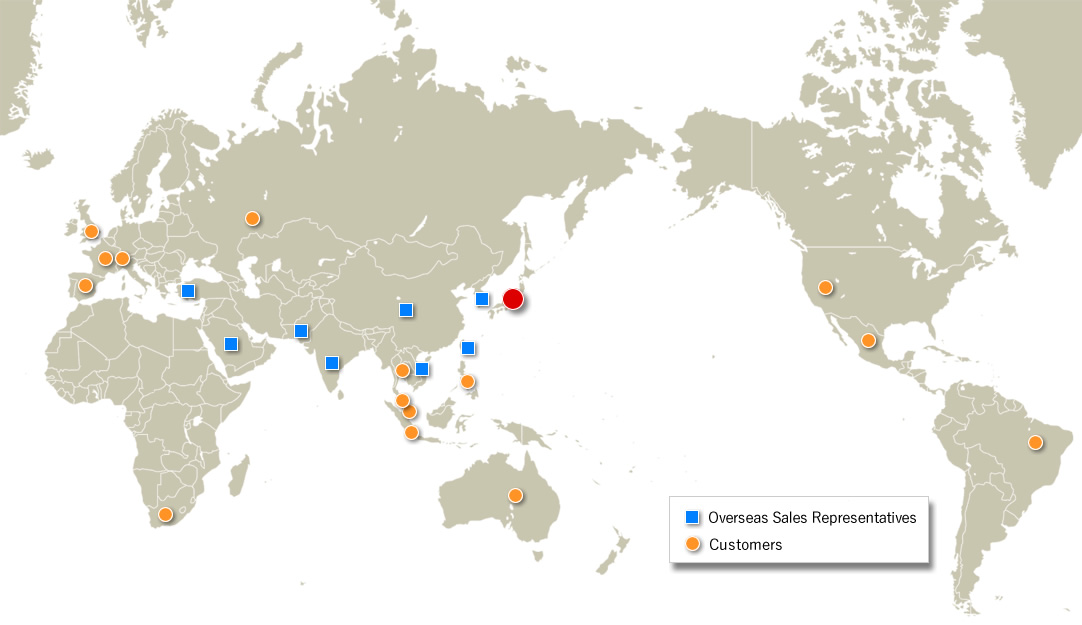 Asia
Japan
Asahi Kasei Corporation
AGC Inc.
Kao Corporation
Kuraray Co Ltd
Shin-Etsu Chemical Co Ltd
Sumitomo Chemical Co Ltd
Takeda Pharmaceutical Company
Nitto Denko Corporation
Zeon Corporation
Fujifilm Corporation
Mitsui Chemical Inc
Mitsubishi Chemical Corporation
Lion Corporation
Toray Industries Inc
Toyobo Co Ltd
Nissan Chemical Industries Ltd
Showa Denko K.K.
Nippon Steel Corporation
Sumitomo Seika Chemicals Co Ltd
Polyplastics Co Ltd
Teijin Limited
China
China Kunlun Contracting & Engineering Corporation
Huitong Chemical Engineering Technique Co Ltd
Sinopec Engineering Incorporation
Polytex Chemical Engineering Co Ltd
Sinopec Yizheng Chemical Fibre Co Ltd
XinFeng Ming Group Co Ltd
Jiangsu Hengli Chemical Fiber Co Ltd
Jiangsu Shenghong Chemical Fiber Co Ltd
Zhejiang Hengyi Group Co Ltd
Zhejiang Rongsheng Holding Group Co Ltd
Tongkun Group Co Ltd
Far Eastern Industries(Shanghai) Ltd
Yisheng Dahua Petrochemical Co Ltd
Shandong Haili Chemical Industry Co Ltd

India
Bhilosa Industries Pvt Ltd
Ester Industries Limited
Garden Silk
Indorama Synthetics India
JBF Industries Ltd
Reliance Industries Ltd
SRF Limited

Indonesia
Indonesia Toray Synthetics
Kuma fiber
Polysindo Eka Perkasa
PT Indonesia Toray Synthetics(ITS)
PT Indorama Polychem Indonesia
Teijin Indonesia Fiber corp


Korea
Dae Han Synthetics Fiber Co Ltd
Daelim Industrial Co Ltd
ENTIS Co Ltd
GS E&C
H.S. Industries Co Ltd
Huvis
Hyosung Corporation
Kolon Industies Inc
LG Chemical Ltd
NCK Co Ltd
Samsung Petrochemical Complex
Seong-An Synthetics Co Ltd
SK Chemicals Co Ltd
SK Engineering & Construction
SKC Limited
S-Oil Corporation
Sumitomo Seika Polymers Korea Co Ltd
Tae Kwang Industries Co Ltd
TK Chemical Corp
Toray Advanced Materials Korea Inc (TAK)
Toray Chemical Korea Inc

Malaysia
Cosmo Scientex (M) Sdn Bhd
Pakistan
GATRON
ICI Pakistan Manufacturers Ltd.
Phillipines
Philippine Resins Industries Inc
Singapore
DENKA Singapore Pte Ltd
Dupont Company(Singapore) Pte Ltd.
Exxon Mobil Chemical Asia Pacific For SME
Mitsui Chemicals Asia Pacific Ltd
Prime Evolue Singapore Pte Ltd
Singapore Highpolymer Chemical Products Pte Ltd
Sumitomo Chemical Asia Pte Ltd
The Polyolefin Company (Singapore) Pte Ltd
Taiwan
BASF Taiwan Ltd
Chang Chun Plastics Co Ltd
Chang Sing Textile Co Ltd
Chi Mei Corp
Ching I Engineering Co Ltd
CTCI Corp
Far Eastern New Century Corp
Formosa Asahi Spandex
Formosa Chemicals & Fiber Corp
Formosa Plastics Corp
Grand Pacific Petrochemical Corp
LCY Chemical Corp
LeaLea Enterprise Co Ltd
Nan Ya Plastics Corp
Oriental Union Chemical Corp
Shinkong Synthetic Fibers Corp
Taita Chemical Co Ltd
Tung Ho Spinning Weaving & Dyeing Co Ltd
Tuntex Distinct Corp
Thailand
Arakawa Chemical (Thailand) Ltd
CTCI(Thailand) Co Ltd
Grand Pacific Chemical(Thailand) Co Ltd
Penfiber SDN BHD
Sanyo Kasei (Thailand) Ltd
Shin-Etsu Silicones (Thailand) Ltd
Siam Alliance Group Company
Teijin Polyester(Thailand) Ltd
Thai Polypropylene Co Ltd
Thai Polypropylene Co Ltd
Toray Fibres (Thailand) Ltd
Toray Nylon Thai Company
Toyobo Chemicals (Thailand) Co Ltd
Tuntex(Thailand) Co Ltd
Vietnam
FAR EASTERN POLYTEX (VIETNAM) LTD
FORMOSA INDUSTRIES CORP (VIETNAM)
NGHI SON REFEINERY AND PETROCHEMICAL LLC
North America & Latin America
USA
Allied Signal Corporation
DNP Corporation USA
E.I.DuPont de Nemours & Company
Firestone Fibers & Textiles
Formosa Plastics Corporation USA
ICI/USA
Jacobs
Kimberly Clark Corporation
Mitsubishi Polyester Film, LLC (Americas)
Nan Ya Plastics Corporation USA
Toray Plastics (America) Inc
Mexico
Kosa
Brazil
Nitro Carbono
EU
England/UK
ICI Europe
France
Technip
Spain
SABIC Innovative Plastics
Technicas Reunidas S.A.
Ube Corporation Europe S.A.U.
Switzerand
Rhone-Poulanc Viscosuisse
中東
Saudi Arabia
HOSAF, South Africa PET Project
SANS FIBRES
Turkey
Sasa
Pacific
Australia
Process Design & Fabrication PTY Ltd.
Africa
Republic of South Africa
SANS FIBRES
Russia
Russian Federation
KAZANORGSINTEZ
---

Our customers spanding all over the world.
Please advise us if you are interested in our sales represent.