When the valve is opened, the piston travels out of the flow channel, ensuring full bore.
The inner walls of the valve are cleaned each time the piston moves. This is ideal for slurries and other fluids that are prone to clogging.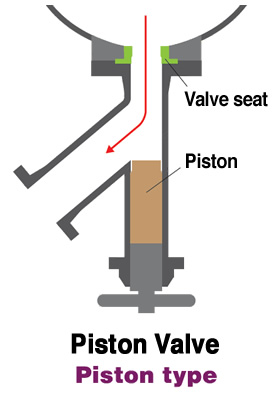 The design can accommodate the shape of the vessel nozzle.
The curvature of the valve seat and disc surfaces can be shaped to completely fit the walls of the vessel.
The temperature in the vessel can be measured by incorporating a thermometer (resistance thermometer sensor or thermocouple).
For the drive system, select either manual or automatic (air cylinder, air motor, or electric motor).
We can manufacture jacketed valves.